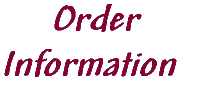 Retail Prices
Limited Edition Prints
Matted Prints-
5x7- $10 8x10- $15 11x14- $25
Unmatted Prints-
11x14- $20
Note Cards
$8- set of 4 cards;
5 or more sets- $6 each
Custom Checkbook Covers
10 gauge clear vinyl;
6 3/8" x 6 3/4"- $5.50 each
Books
Cats, Rats & Other Creatures
$15.95 plus shipping
Whimsical Teddy Bears
$15.95 plus shipping
Patterns *please read important information below
$8 each plus shipping
* There are no clothing patterns for bears-Purchase childrens clothing to dress bears.
You must purchase or make your own accessories for bears (e.g. sunglasses, jewelry, etc.)
If you wish to have smaller bears for your completed bears to hold, order patterns for small bears-
Charley is the ideal pattern for small bear. Some patterns require enlargement before use.
Patterns are for individual personal use only. Patterns may not be reproduced for resale-
either in original form or resized or otherwise altered.

---

To insure the best shipping rate and service,
please contact Neysa through the email link
below. Payment in US funds only
by check money or money order,
or pay securely through PayPal
using your credit card or bank card.

Email Neysa for total cost with shipping.
---
on-line ordering not available yet
To Order Contact:
Neysa A. Phillippi


---
Indiana, PA 15701-2244 USA
Tel: 724.349.1225 Fax: 724.349.3903

www.purelyneysa.com